Button Badge
Perfect for events and promotion use.
Available in 4 sizes.
32mm, 44mm, 58mm and 75mm.
Available as a back pin or a magnet.
ORDER ONLINE NOW
Use this option if you already have the design.
We will review your file and give you a quote. Upon confirmation we can use the file to start printing.
No upfront payment required.

Use this option if you just need a rough estimate of the cost of printing.
Sizes
Button Badge (32mm)
Button Badge (44mm)
Button Badge (58mm)
Button Badge (75mm)
Design Guidelines
Click on the thumbnail of the product to display the design guidelines for that product.
Button Badge (32mm)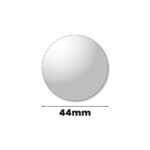 Button Badge (44mm)
Button Badge (58mm)
Button Badge (75mm)
Browse More Gift Products
Browse More Products