Hardboard Coasters
Drink coasters to keep your tables unspotted by watermarks. Custom make your hardboard coasters with full color prints for that unique touch.

10cm x 10cm
ORDER ONLINE NOW
Use this option if you already have the design.
We will review your file and give you a quote. Upon confirmation we can use the file to start printing.
No upfront payment required.

Use this option if you just need a rough estimate of the cost of printing.
Sizes
Hardboard Coaster (10cm x 10cm)
Design Guidelines
Click on the thumbnail of the product to display the design guidelines for that product.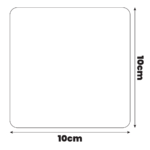 Hardboard Coaster (10cm x 10cm)
Browse More Gift Products
Browse More Products